Welcome to our little family-run farm on the beautiful west coast of Norway, where we invite you to enjoy horse-friendly riding, traditional craftsmanship, and "the slow life" in harmony with nature.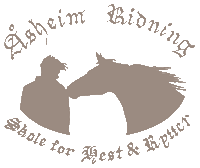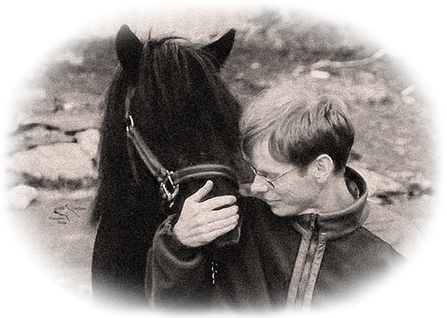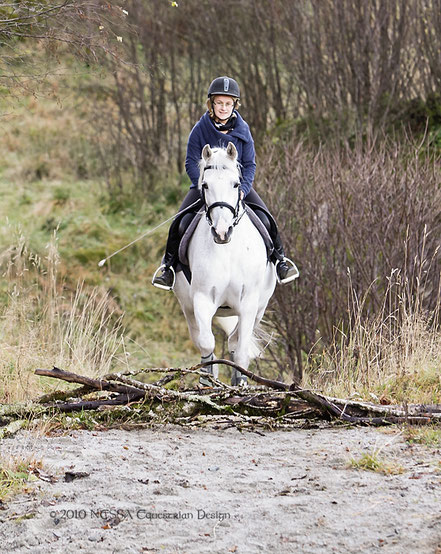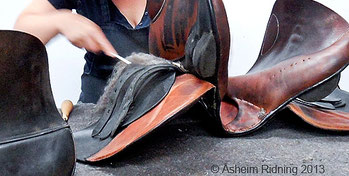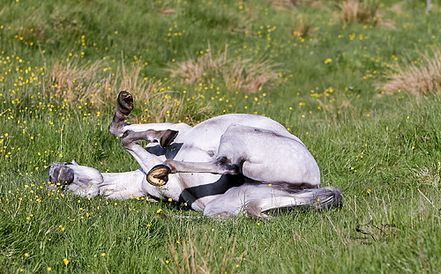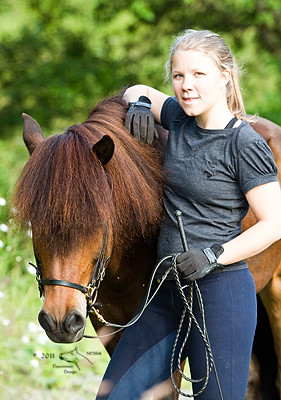 Riding and groundwork lessons and saddlefitting consults now also online!
Get the help you need, where and whenever you need it -
minus travel time, travel costs, or Corona.
Profit from our long experience with distance teaching and saddlefitting.
No technical expertise necessary -
if you have a horse and a smartphone, you´re qualified!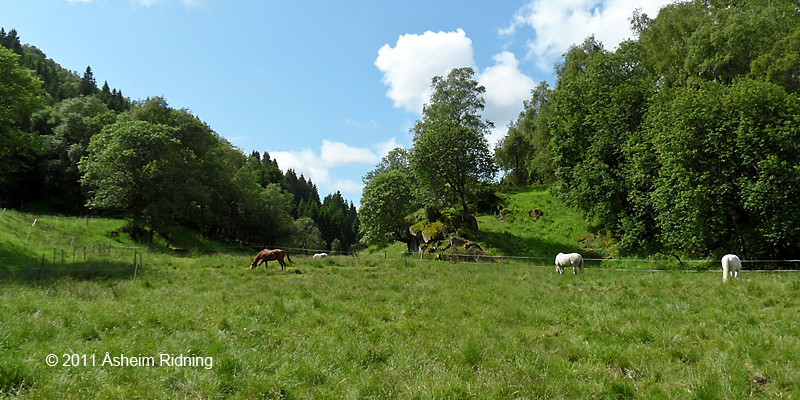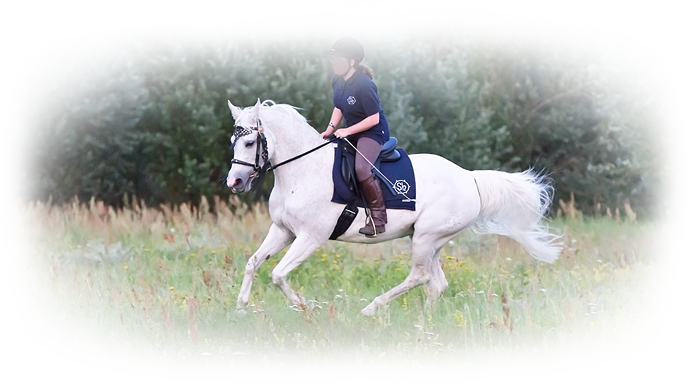 Ready for the real stuff?
   "Do less - get more!" 
   With our broad international background from the Classical Riding traditions of Germany and Austria, the German and Norwegian horse industry, academic studies in Germany, Ireland, and Norway, together with saddle fitting and saddlery knowledge inspired by that trade´s "mother country" England, we have a unique opportunity to offer our guests, students and customers the best of traditional horsemanship and craftsmanship, combined with the newest scientific knowledge in the fields of pedagogics and sports science - in the quiet, beautiful and relaxed surroundings of our mountain farm, where you can have it all to yourself.
   We have been proud to serve horses and riders at this location since 2004.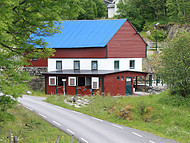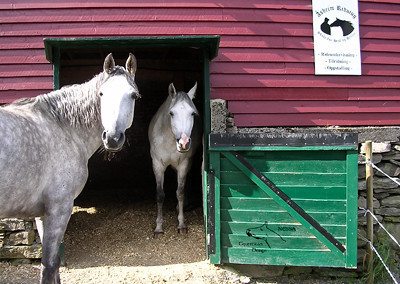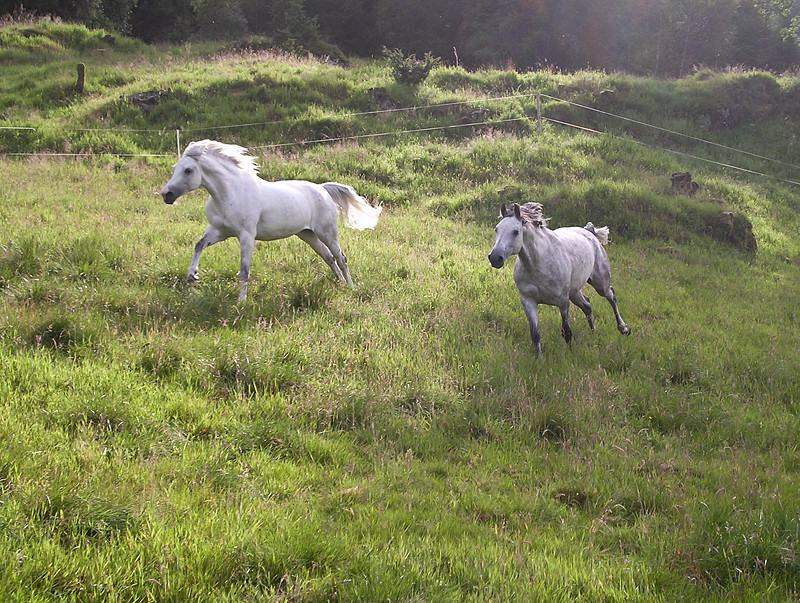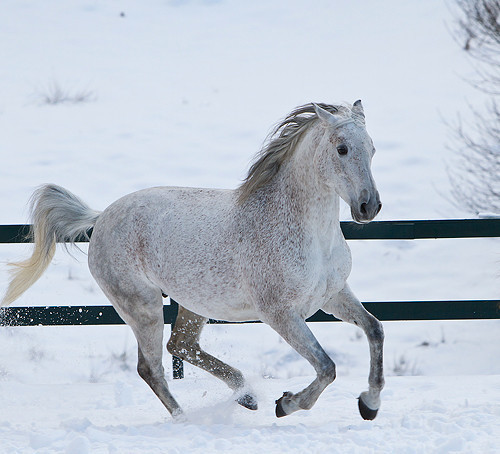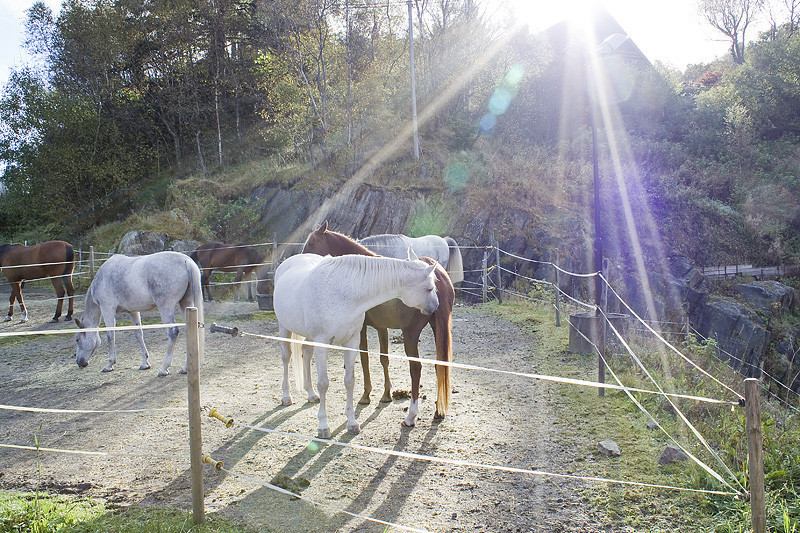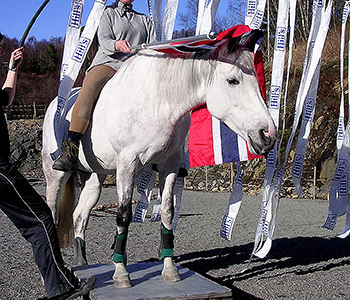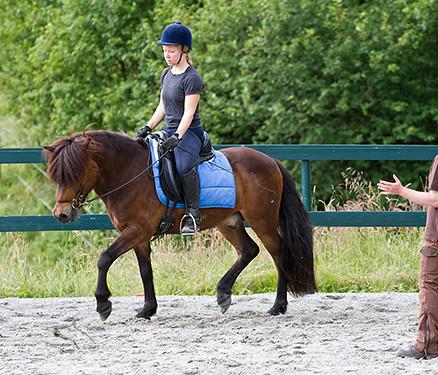 Our trainer is qualified from both the Norwegian and the German Equestrian Federation, and her philosophy is rooted in the humane tradition of Classical Riding, and in the effective methods of the old cavalry schools for producing gutsy, easily handled horses, ready for the "real world" and all its challenges.
   We believe that horses who are happy, work best, so our horses are out all day with their friends.
   We offer lessons in riding, Classical in-hand work, loose schooling, horse handling and "horsemanship" - both on the rider´s own horse, and on our experienced schoolmasters.
   Since no horse can perform better than the rider´s athletic abilities allow, we offer Classical seat lessons on the lunge. Because when push comes to shove, riding is something you feel and do - not something you know and talk about. Our schoolmasters show you what riding should feel like, and how you get your body to actually do it.
   We also help you to school your own horse in a correct way of going, and to rehabilitate horses with weakly muscled backs.
   Our small, friendly livery yard offers your horse big, airy stables, all-day turnout summer and winter, an all-weather arena, and qualified personnel on-site all day, 7 days a week, ready to take good care of your horse, or give you the advice and help you require. In bad weather, you can seek refuge in our airy covered arena. Enjoy the feeling of the great outdoors, complete with murmuring brook round the corner - with a roof over your head.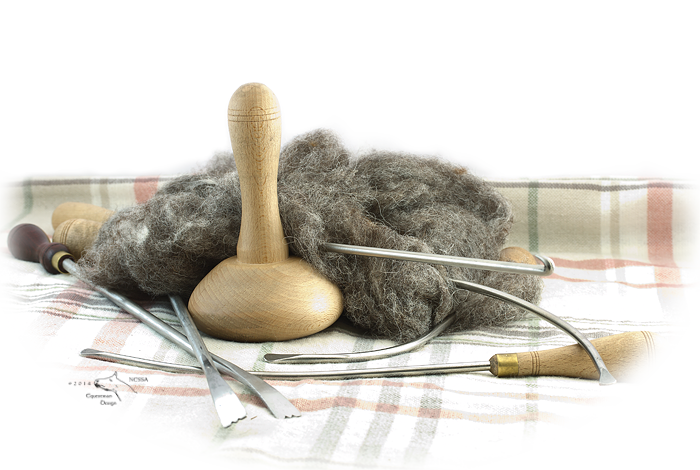 We offer complete saddle care for the discerning rider - saddlefitting visits to your yard, reflocking, and repairs and individual adjustments of your tack in our own fully equipped saddlery workshop.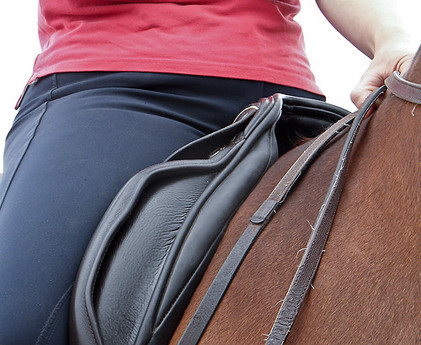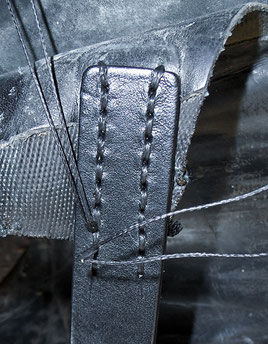 We can also create your made-to-measure, handmade bridle to match your saddle, either in finest English Sedgwick leather, or in weatherproof Biothane.
   For many years we have specialized in the training and rehabilitation of the horse with back problems, and remedial saddlefittig is some of the most rewarding work we do.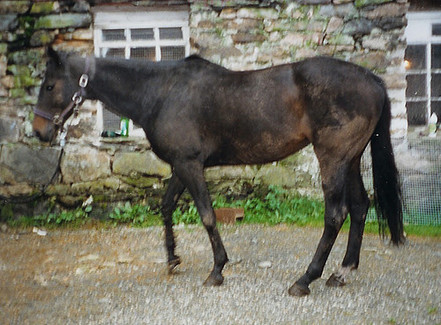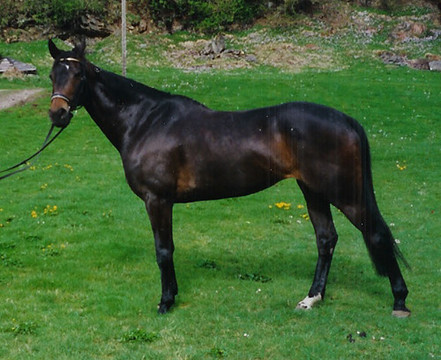 We fit, check and adjust all kinds of saddles - regardless of manufacturer or type, as long as we are satisfied that they are a good fit for the horse.
   If you would like a new saddle, you can enjoy the unique opportunity to have your saddle tailor-made to fit you and your horse, and match your personal style - by the experienced craftsmen at the world-reknowned English saddle companies IDEAL and Jeremy Rudge.
   See our collection of beautiful demo saddles, carefully crafted to complement different horse types and rider needs, in our new showroom situated at the forest edge, and try them out just 5 m away in our arenas.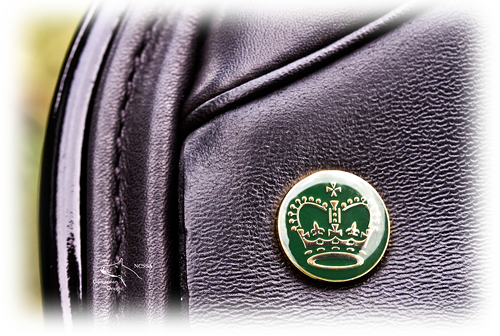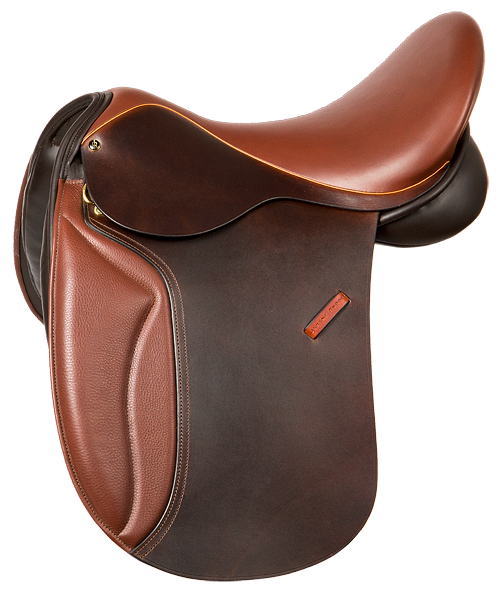 Our qualified saddle fitter graduated at the top of her class, with one of the highest scores ever awarded, and with the highest possible marks for the practical check of the saddle.
   For her, saddlefitting still is finding out how a saddle needs to be for each individual partnership - from the tree outward.
   Anything else is just sales.  
   So we don´t just sell you whatever saddle we happen to have in stock.
   We have the saddle which your horse needs and which you want, made for you.  
   Because the easiest way to get a saddle that fits... is still to build it so that it does!
   This is why we only deal with companies where we can discuss your needs with other experienced saddlers and riders, and whom we have personally met.
   In their workshops, each saddle is still produced mainly by hand to exacting standards, from superior materials.
   This means that we can specify exactly what we want for you and your horse - this tree, that kind of panel, such-and-such a girthing position, these kneerolls, this shape for the seat, and oh, the rider would like this kind of leather, and a front facing in such a colour, and welting seams on the seat in this shade...
   Any saddle which is added to our range, is first tested by our own horses and saddlefitter, so we get to know each saddle and its behaviour on the horse.
   Our carefully curated collection of demo saddles, will give you an impression of the many adjustments and variations to choose from.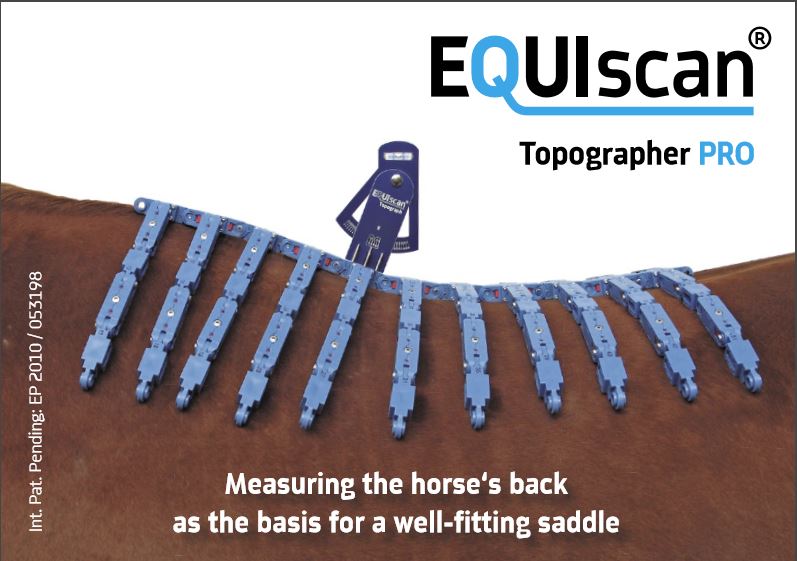 With the prize-winning EQUIscan measuring device, the Topographer Pro, and the equally decorated Horseback Simulator from EQUIscan, we can measure your horse´s back with great accuracy, easily visualize your saddle´s fit, and recreate your horse´s back shape in our saddlery workshop, to facilitate speedy and accurate adjustments to any saddle.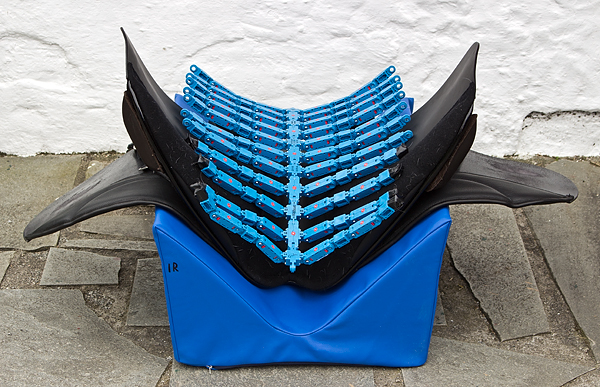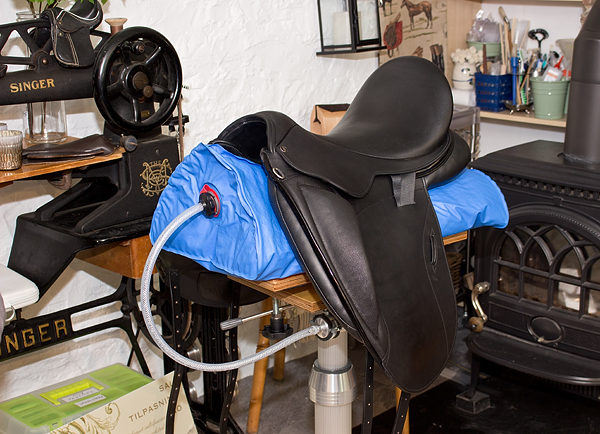 If you require help over long distances, a local EQUIscan measuring specialist can take a measurement of your horse for you, and send it to us - even from another country. We can then "recreate" your horse´s back in our workshop, and advise you on a suitable saddle, or have one made.
   We can also show you how you can templates of your horse´s back yourself, with a few inexpensive tools, which we then can convert into EQUIscan data in our workshop.
   Our qualified saddlefitter will be happy to assess your and your horse´s needs in a full saddle fitting consult, including all the stages recommended by the Society of Master Saddlers/ Master Saddle Fitting Consultants, whereever you live - through our unique live video "online saddlefitting" service.
   In addition to a thorough traditional saddlefitting consult, we can offer an additional pressure test of the saddle during riding, with the internationally acclaimed Port Lewis Impression Pad. This gives a 100 % direct and objective result after just a short ride, by means of a special medical gel, which will take and then keep an impression proportional to the pressure it receives.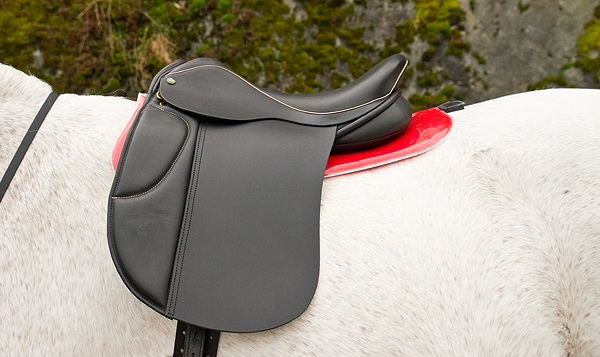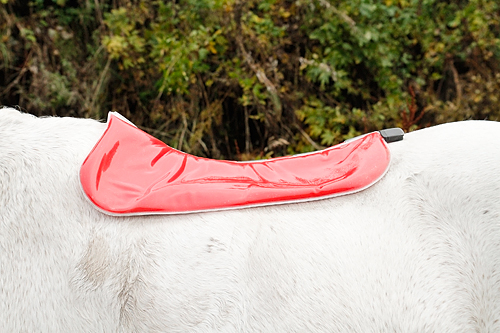 We can also measure your horse´s back with the official measuring system recognized by the German Saddlers´ Association BVFR, the Tomax.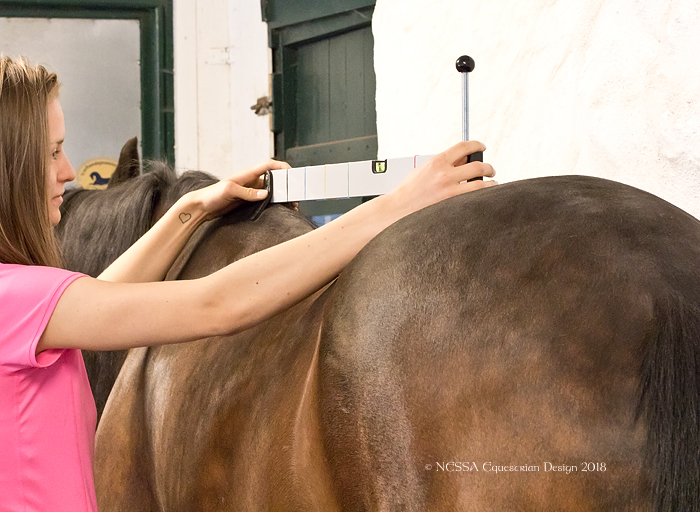 We pride ourselves on our friendly customer service and dedicated follow-up for each horse and rider, and on the referrals we get from local vets and farriers.
   Most of our business is return, or recommendations by existing clients.
   We are not salesmen looking to sell you a product, but equine professionals who put the horse´s welfare and rider satisfaction first, and who will work with you, your horse and your saddle until the best possible result is achieved.
   Because even the best saddle can only do its best job, when it is fitted to the horse´s individual requirements, and followed up properly, on a horse who has a sound back, which can carry it in balance.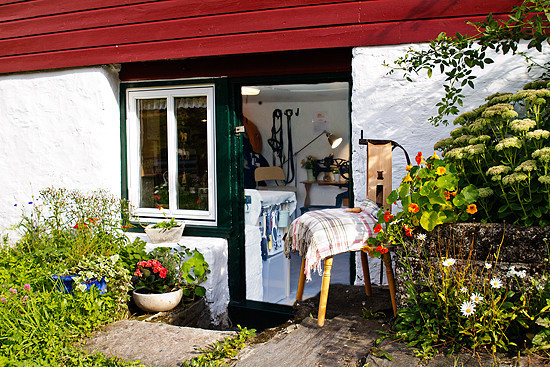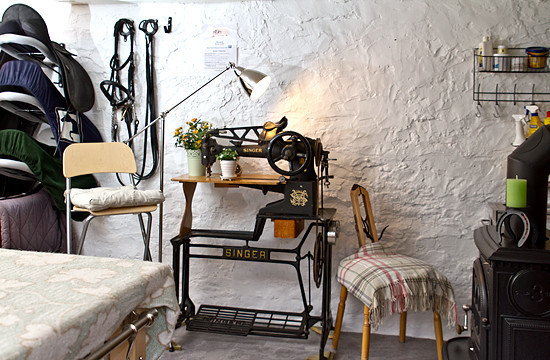 Visiting riders, working students, working guests, workawayers and holiday guests are welcome to stay in our fully furnished, comfy guesthouse set right inside a hill pasture, just a few meters from the stables.
   Here you can here the brook murmur, the owlets hoot, and the horses blow and move in their stables, at night, and in the morning it is just a few steps over to the yard for your morning ride.
   If you bring your own horse, he or she can relax in one of our spacious stables with all-day turnout. You are welcome to use our indoor/ outdoor arenas, and enjoy some qualified lessons if you wish.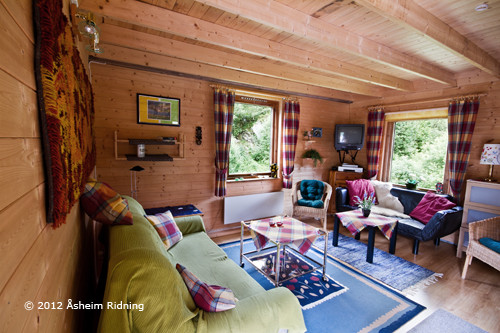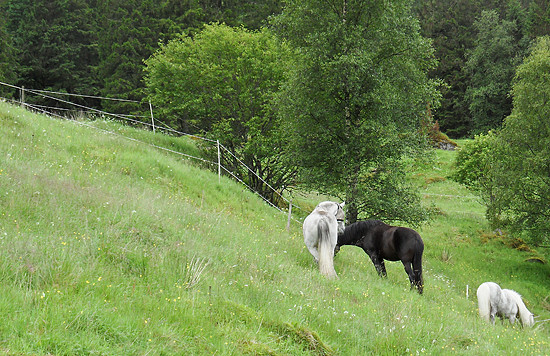 Experience the "real", rural Norway, practically tourist-free - but only a half-hour´s drive from the historic Hanseatic city of Bergen, and ideally situated for day trips to many of Norway´s most famous attractions, be it fjords, glaciers, nature reserves, stave churches, waterfalls, or just the endless unspoilt wilderness. Breathe air so fresh and clean, enterprising marketers have actually bottled and exported it to polluted cities!
   Coastal and fresh-water fishing available (and you will probably have the water all to yourself...)
   Or what about a guided nature or wild food walk, picking up some goodies from the natural larder for your holiday cooking?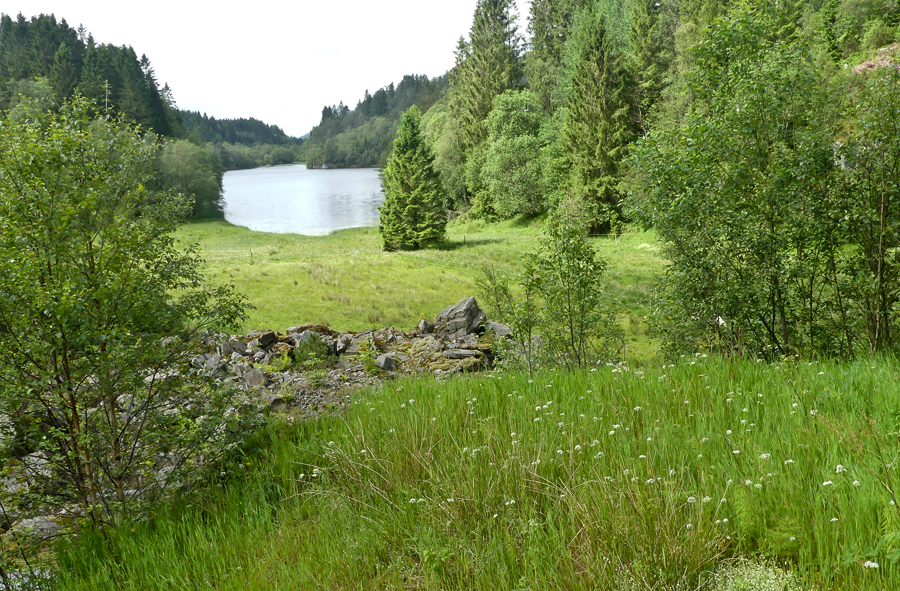 The local marina is just 5 min. away, the local golf course (rumoured to be among Europe´s finest), or the local heritage museum, and art gallery, just 10 min., and about 20 min. drive brings you to Åsane, with some of the area´s most varied and brand-new shopping centres, including the world´s largest IKEA store.
   The region is home to many other attractions and events both natural and cultural, so whether you are looking for something to do, or your very own spot to get away from it all, it should be easy to find.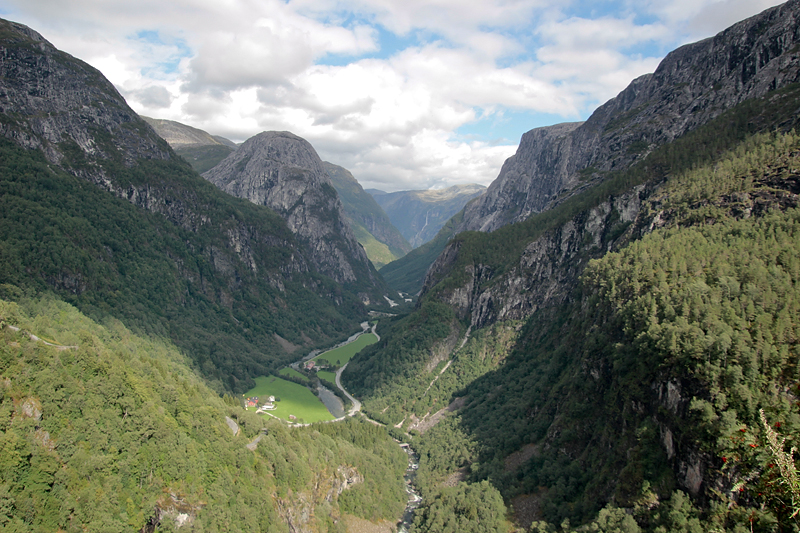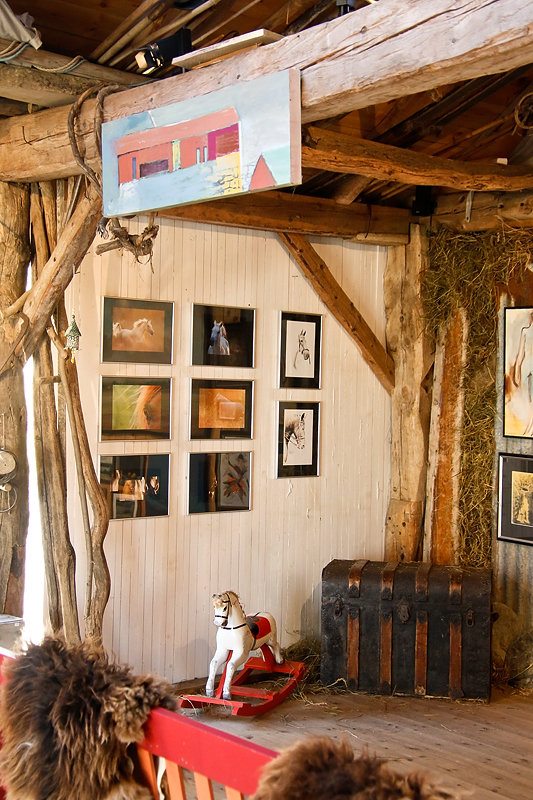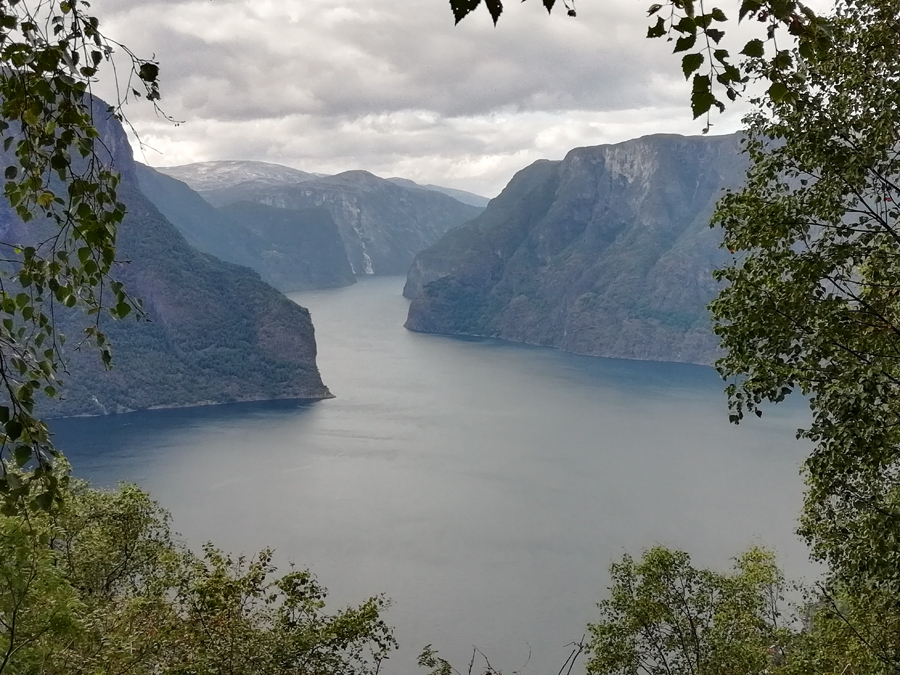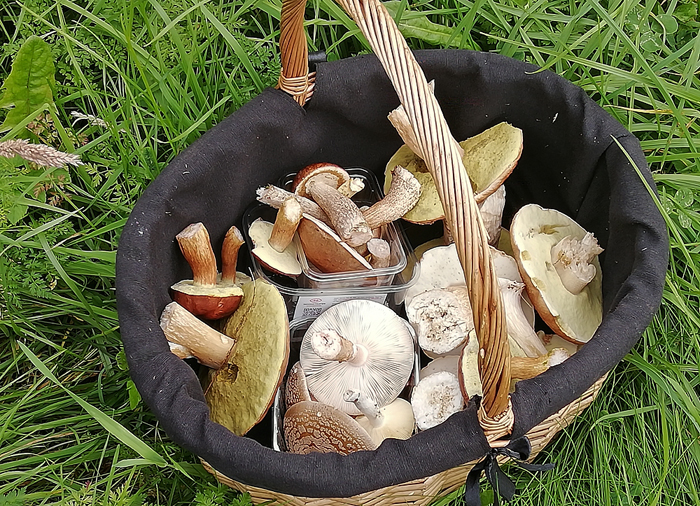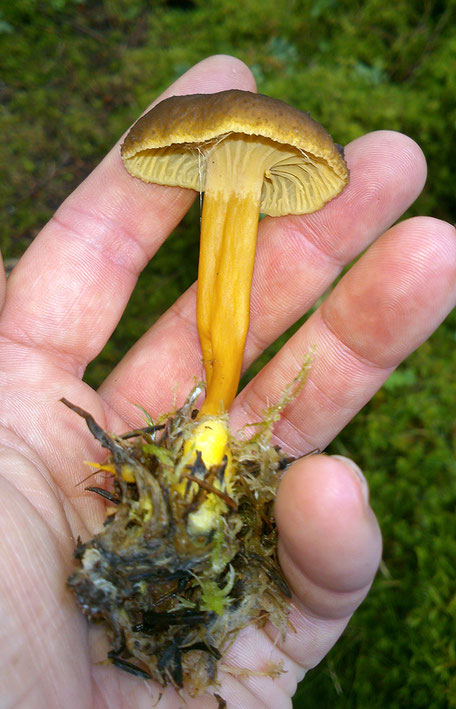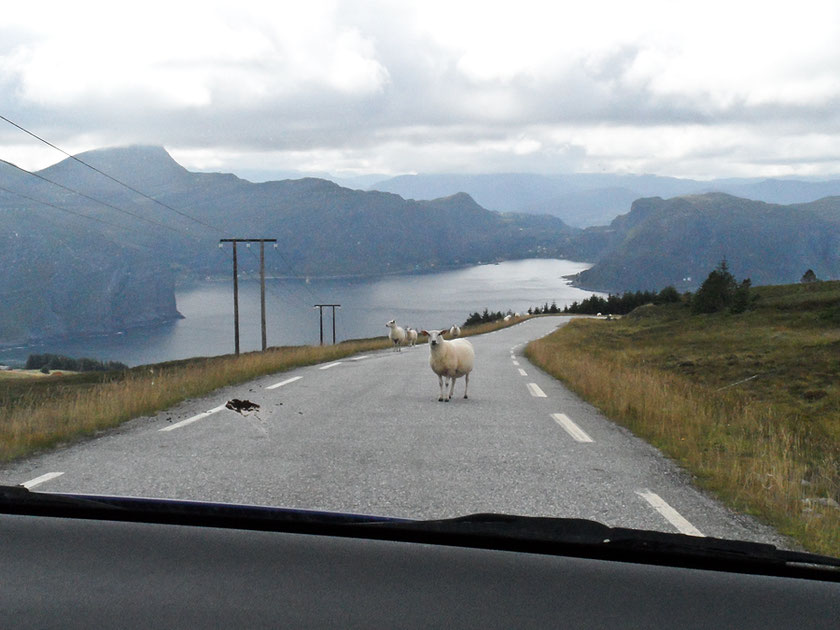 Our "wild west" is as easy to reach as it feels remote!
   Only 1 hour´s drive from Bergen International Airport (there are airport busses to the city centre, and the local bus stops right outside our stables, or pick-up can be arranged). About 25 min. from Arna Train Station. Ca. 35 min. from the ferryport in Bergen. Ca. 45 min. from Bergen Train Station.
   Or take the train from the capital city of Oslo across the mountains to local Arna Train Station - supposed to be one of the most spectacular and beautiful train rides in the world. 
---